CAPTAIN JAMES A. ROBERTS
Terran Star Force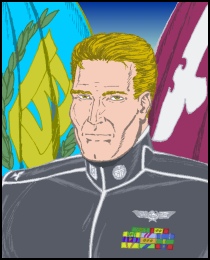 CAPTAIN JAMES A. ROBERTS began his TSF service in 2277 when he joined the USS Combat Forces on Phelspharia. He received an appointment to Officer Candidate School in December 2278 and was commissioned an Ensign in April 2279. He attended Flight School in June 2279 and graduated with high honors. He was assigned to the Neptune Defense Grid in November 2279 where he served in the 138th Tactical Fighter Wing.
CAPT Roberts served aboard TSS VIGILANT (LC 78) from January 2281 where he held the positions of Assistant Combat Information Center Officer, Assistant Flight Control Officer, and Executive Officer to the Flight Line Chief before going to the 23rd Tactical Combat Wing stationed at OUTPOST O'DONNELL on the USS-Motinea border in November 2282. He was assigned as Deputy Commanding Officer for the 4th Fighter Squadron and spent the following year conducting operations Wotan's Spear and Mighty Colossus. He received a battlefield promotion to Lieutenant for his command of the VIGILANT's tactical fighter squadron during the Ch'Janjir Offensive of 2282.
In January 2284, he reported to OUTPOST 20 and served there as Aide to the Commander until August 2284. CAPT Roberts held the position of Deputy Security Officer for OUTPOST 20 until March 2285 when he received promotion to Lieutenant Commander. He was transfered to the TSS RAMSES (DD 251) to serve as Second Officer. He participated in the New Bismarck Liberation of 2286 and the assault on the Kevparinan Archepelego. CAPT Roberts was transferred to the TSS INDOMINABLE (CVA 05) in December 2286 to serve as Senior Flight Officer after the RAMSES was scuttled due to battle damage.
CAPT Roberts received a battlefied commision to Commander for his actions aboard the INDOMINABLE during the 1st Vanyan Assault. He was transferred to TSF Command School February 2288 and graduated with honors October 2288. He was transferred to the TSS RAGNAROK (BC-108) in November 2288 to serve as First Officer and succeded to Commander in October 2290. CAPT Roberts received promotion to Captain in June 2291 after serving in the 6th Motinea Incursion at New Bismarck, the 2nd Vanyan Assault, and the Pellemetan Uprising of Krosk. CAPT Roberts was transferred to the TSF Academy in August 2291 where he served as Tactical/Flight Combat Instructor before receiving command of the TSS STARLION (BC-152) in July 2292.
At present, he is the Commander of the TSS STARLION.
March 2294
-TSF-
Terran Star Force Public Affairs Library
A service of the TSF Office of Information, Port Norfolk, VA, Terra
Send feedback/questions to:
HyperLink20-90A-02391::TSF_Library::PubAffairs@TSF144.HQ_TSF.military
TSF Public Affairs Library is found on the Hyperlink Network at:
HyperLink20-90A-02396::TSF_Library::SearchEngine203^PublicGroups.information