MITCHELL CLASS
STRIKE CARRIER

SHIP CLASS:

STRIKE CARRIER

SHIP'S COMPLIMENT:

38 Officers, 319 Enlisted
60 Pilots/Navigator teams

MASS:

374,981 metric tons

POWER PLANT:

4 Hendricksen VI Fusion Piles

PRIMARY ROLE(S):

1. PEACETIME:

Picket/Security Operations

2. WARTIME:

Planetary Assault/Special Operations

PROPULSION:

1. SUBLIGHT:

4 Shy'ip-Shahv SS-16 Newtonian Drives

2. FTL:

2 Shinahura STD-20 Tachyonic Drives

WEAPONS:

1. BEAM:

2 Reiten CEB-25
2 Grahsk AM-03 (Anti-matter projectors)
24 Dask-III Anti-fighter pulse guns

2. MISSILE:

40 Tulsock ZEDX Mines

3. FTL:

4 Ghazul IMBFM-XX (Domino Drones)

SENSORS:

1. SUBLIGHT:

Feldglassum XES-XXV

2. FTL:

Shaitan-Muosk TDS-XI

3. FIRE CONTROL:

Miller FC-35A (Mains)
Yellowjacket A-9 (Defense)
VESSEL HISTORY:

A died-in-the-wool strike carrier, the Mitchell class is designed not for space combat, but for planetary strikes. Her 6 fighter bays and 6 marine pods are optimized for ground attack, and her entire command and control system is tuned for that mission. Indeed, most Mitchells see service tucked in a protective cocoon of destroyer and battlecruiser escorts.

This is not to say that a Mitchell can't hold her own in combat. TSS Indomitable had her entire support fleet destroyed around her during what was to be a routine strike on the shipyards at Gallindia in the 1st Vanyan Assault. Using nothing more than her limited arsenal -- and her full compliment of strike fighters -- Indomitable escaped the scene and is currently in service to this day.
SKETCHES OF THE MITCHELL CLASS STRIKE CARRIER
TSS INDOMITABLE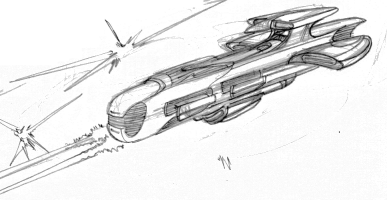 TSS INDOMITABLE FIRING HER MAIN GUNS
UNDER FULL SHIELDS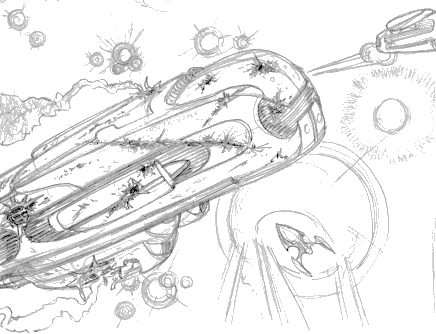 THE TSS INDOMITABLE RETIRES FROM BATTLE
DURING THE 1ST VANYAN ASSAULT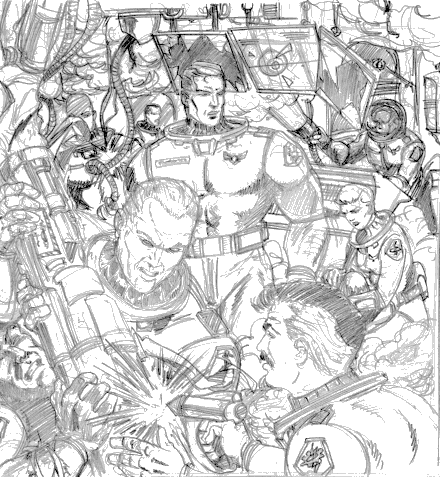 LT CMDR JAMES ROBERTS TAKES COMMAND
ON THE BRIDGE OF THE TSS INDOMITABLE




STARMADA GAME STATS
Find the Starmada rules at: www.mj12games.com/starmada/index.html
Find more Starmada ships here.
Mitchell Class Strike Carrier
[185 +120]
Movement Track
Shield Rating
4
4
4
3
3
3
2
1
3
3
(2)
2
2
Special Equipment
2
1
1
1
1
Anti-Fighter Batteries, Armor Plating, Electronic Countermeasures, 6 Fighter Bays, Fighter Defense Network, 10 Marine Squads, 30 Mines
0
Weapons
Range (S/M/L)
To-Hit
[1] Anti-Matter Beams
1-4
5-8
9-12
4+
F
A
[2] Laser Cannons
1-5
6-10
11-15
5+
P
S

StarLion/Starmada Starship Combat Game Info