FRONTLINE WARRIOR:
The formidable commander of the TSS StarLion, CAPTAIN JAMES ROBERTS, on the front lines in the war against piracy.
By Madelina Kane

In these, the first days of real peace in our galaxy, it would be easy to forget the people to whom we owe it. We at INN have decided to devote a special series of reports to the members of our armed forces. And as the battleground switches from Star Systems to smuggler's dens, we chose Captain James Roberts of the TSS StarLion as our first subject.
Captain James A. Roberts - 35
Born: Leonaither, Phelspharia, 2259
Commanding Officer, TSS StarLion
There is nothing typical about Captain Roberts' career in the Terran Star Force. Born son to the famous Commodore Jason Roberts, it seems pre-ordained that he would eventually become a Naval Officer. The truth is that he barely made it through Officer's Candidate School. He stubbornly fought against what he described as "abuses while training", and organized the school's only protest to the harsh treatment received by candidates. The only thing that prevented Roberts from receiving a discharge was his high-performance pilot's license. Though he graduated in the bottom third of his OCS class, he ranked 1st in Flight School. As a result, he was assigned to an active duty squadron after only thirteen months of training. It was in combat that Roberts excelled. Earning his Ace's star in only fourteen weeks, he was promoted to full lieutenant and led the pilots under his tutelage to one of the highest kill ratios achieved in the war. Not surprisingly, this record brought an offer of a transfer to the command branch. Roberts rejected the proposal immediately. The reason he gave is ironic: "I'm sure the TSF would find that I am the last person they would want commanding a starship."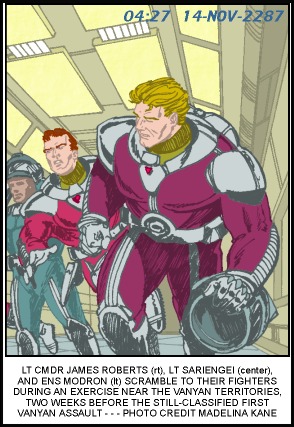 Roberts' career in command began with a literal "bang". After a sneak attack on the carrier TSS Indominable, he found himself the only officer above the rank of ensign left alive. Forced into the captain's chair, Roberts managed to escape with the crippled carrier, bringing the ship and survivors back to port. His gallantry did not go unrecognized. His action won him his first Medal of Valor and a seat in command school, the latter an honor that he was ordered not to refuse. He graduated -- predictably -- in the top five percent of his class. Sources say that the only reason he didn't manage the top slot was that he had a tendency to question procedures that he felt to be "archaic and useless".
Details of his early command years are sketchy, due primarily to still-classified material. It is known that he served for a year as first officer aboard the Ragnarok before eventually succeeding to its command. However, information surrounding the loss of the Ragnarok is nearly non-existent. Whatever his actions were, it earned him his second Medal of Valor and an appointment to the TSF Academy, as an instructor.
It is rumored that TSS StarLion (named for Phelspharia's mythic beast of grace and power) was tailored to be the kind of ship Roberts would like to command. Regardless, Roberts assumed her helm at the completion of her space trials. Surrounded by his hand-picked command crew, he has sat in her captain's chair for the past two years. According to sources in the TSF, there are currently no plans to replace him as her captain.